Spill containment pallets & trays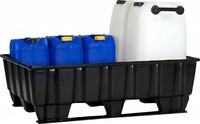 Spill containment pallets
and trays are necessary in areas that come into contact with hazardous substances.
Spill containment pallets 
help to:
protect your employees from hazardous substances
protect the environment from substances hazardous to water
increase the cleanliness and reducing the risk of accidents
reach compliance with legal requirements
The advantages of a plastic spill control pallet are the low weight and easy handling. The containment pallets are thermoformed in one piece and have no welds which can leak. The products offer a high resistance against the majority of acids, greases and oils. Almost all products are approved by the German Institute for Building Technology DIBT.

The following optional products enhance the range of the spill rention pallets:
Containment pallets with plastic or galvanized grates, Giterbox-use spill trays, spill containment pallets with pallet runners for better handling with a forklift.

Remarks for the dimension of the spill control pallets
Please check the national safety regulation. As a general advice the spill control pallet must be able to held at least 100 % (German rules) or 110% (UK rules) of the volume of the biggest container stored on the pallet.