Plastic Euro stacking crates closed version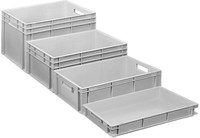 Our closed stacking crates are the best choice for the storage and transportation of heavy duty loads. The plastic crates fulfil all industrial needs with their max load up to 60 kg and the max stack load up to 700 kg. All stacking containers are manufactured with the Euro sizes and fits very well for stacking on Euro size pallets with the footprint 1200 x 800. The stacking crates can be ordered either with an open or with a closed handgrip. Additionally we offer the range of plastic cases with an integrated lid and an ergonomic handle as well as containers with integrated lids and with cover lids.
For every stacking crate we offer cover lids, attached lids as well as ticket holders. On demand you can order the containers in your individual colour or with hot print marking.