Attached lid containers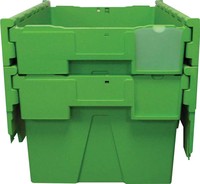 Attached lid containers are the perfect solution for
• picking
• storage
• transportation

of various goods. The base attached lid container has a conical design. This allows to stack empty containers into each other and reduce volume up to 70% - this helps to save significantly the return transportation costs and has a significant impact on the carbon footprint. The multifunction use contributes to the reduction of packaging waste as well as it helps to lower labor costs.