Galia Odette plastic crates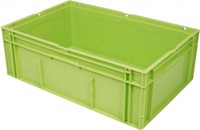 Galia Odette plastic crates are designed to fulfil the demand of the automotive industry and their suppliers. The standardized Galia crates carry typically the descriptions Galia 6433, Galia 6423, Galia 6422, Galia 4325, Galia 4322, Galia 4312 or Galia 3212.

The containers Galia 4325, Galia 6423 and Galia 6433 are foldable what results in a considerable volume reduction when empty.

The containers are manufactured to carry heavy loads and frequent use. 
Additionally a ticket holder can be placed on the side of the container.