Big boxes for industrial, commercial and agricultural use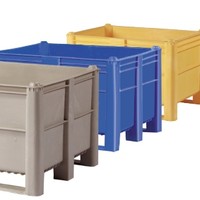 DOLAV pallet boxes also called box pallets are made of high quality and food grade HDPE. The box pallets are manufactured in a one piece injection moulding production process. This unique manufacturing made the pallet boxes very resistant. In the closed version Dolav pallet boxes are ideal for transporting liquids. The box pallets can be stacked up to 14x (when empty).
We recommend ventilated pallet boxes especially for transport and storage of fresh produce such as fruits and vegetables.
Pallet boxes with 2 skids are very suitable for conveyors. In particular, for industrial use, we recommend box pallets with three runners. These are designed for extra heavy loads. All rigid large volume containers from Dolav may be marked by hot embossing.