Plastic transport trollies| Dollies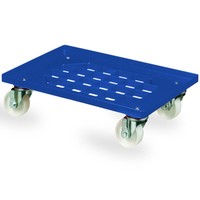 Transport trolley are widely dollies for transportation of Euro stacking crates. The transport trolley is made of a solid base with 4 wheels. The Euro stacking crates fit exactly on the base frame. The rim protects the containers to fall down during the transportation.
For the selection of the base frame we recommend ABS plastic for high duty and impact resistance application or PP plastic. The measurers of the dollies fit exactly to carry either one Euro stacking container with the 600 x 400 footprint or two Euro stacking containers with the measurers of 400 x 300 mm. Open deck dollies can be used for the transportation of Euro stacking boxes, whereas dollies with a perforated deck can also be used to transport other smaller parts.
The caster have dimensions between 100 mm and 125 mm and are made either of polyamide or rubber. The maximum load for the dollies ranges up to 250 kg.
The transport trollies can be delivered in other colours on demand.