Box pallets type ACE 1000 x 1200 mm foot print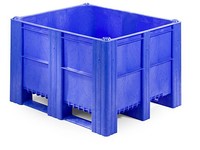 DOLAV ACE Pallet boxes also named Pallox or Bigboxes are made of high quality food grade HDPE and injected in one piece. This gives the box a high impact resistance a high durability and a high static load. Dolav pallet boxes are also ideal for transporting liquids. The big-boxes can be stacked up to 8 pc high (when empty).  Perforated versions are mainly used for transporting fresh products such as fruit and vegetables.
Pallet boxes with 3 skids are ideal for use on roller conveyors. Also suitable for heavy industrial use and heavy loads.