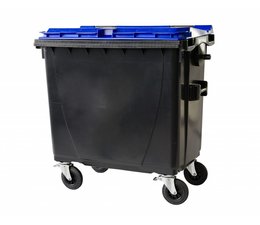 Waste and recycling containers, 770 L, 4 wheels, according to DIN EN 840, max load 360kg, Standard grey
With flat lid grey, Max total weight 360 kg. Filling weight 320 kg. product weight 38.5 kg. Resistant to frost, heat and many chemicals. All prices nett. VAT may apply.
Delivery time: On request
Reviews
No reviews found...
Waste and recycling containers
Containers made of HDPE
External dimensions: (LxWxH) 820x1370x1315
Shape retaining, impact-resistant and rot-resistant
Compatible to all DIN-emptying systems
Weather and UV resistant
Resistant to frost, heat and most chemicals
Solid rubber wheels (˜ 200x50 mm)
Metal parts corrosion-resistant
Certified according to EN 840.
Compatible with identification and weighing systems and equipped with chip nest.
recyclable
Colours: grey, green (yellow, blue please ask us for these colours)
Colour combinations possible
No specifications found