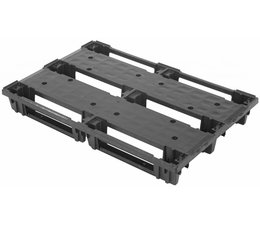 Plastic EURO pallet 1200x800x140 with 3 skids nestable and rackable
Weight 7.8 kg, max load static 1200 kg, dynamic 800 kg, on rack 200 kg, 3 skids. All prices exclusive VAT and shipping costs. Free delivery for orders above 500 €.
Article number:
PS128014PSR
Delivery time: ca 3 Weeks
From: €27,00

For only:
Reviews
No reviews found...
Euro pallet nestable & rackable
made of mixed polypropyene as mono-block
with safety rim
with 3 skids and nestable.
open deck.
easy to clean
very good stacking on the rack with medium havy loads
very efficient in the return transportation due to nesting skinds
resistant to acids, fats, solvents and steam cleaning
quantity per pallet on delivery 35 pc
| | |
| --- | --- |
| Lenght mm: | 1200 |
| Width mm: | 800 |
| Height mm: | 140 |
| Weight gr: | 7800 |
| Colour: | black |
| Max racking load kg: | 200 |
| Max dynamic load kg: | 800 |
| Max static load kg: | 1200 |
| Nesting / stacking: | nesting / stacking |
| Nesting ratio %: | |
| Type of deck: | Closed |
| Type of material: | recycled PP or virgin |
| Pieces on full pallet: | 35 |