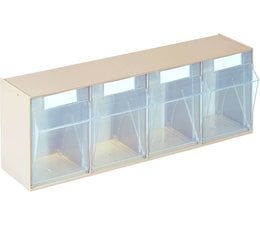 Parts storage case 600x137x207 with 4 boxes
Including 4 clear boxes. Plastic case available in white, blue and beige. All prices net. VAT and Shipment costs may apply.
€53,32
Excl. tax
Buy 3 for €51,72 each and save 3%
Buy 10 for €49,59 each and save 7%
Reviews
No reviews found...
Small parts storage case with boxes
storage case made of impact-resistant polystyrene
External dimensions 600x137x207 housing (LxWxH)
including 4 transparent boxes 128x128x133 (LxWxH)
transparent boxes made of food safe polystyrene
temperature resistant from -20 ° C to + 80 ° C
resistant to most acids and oils
ideal for dust free storage of small parts
can be used for screws, parts, office supply
suitable for garages, retail stores, offices and warehouse 
No specifications found