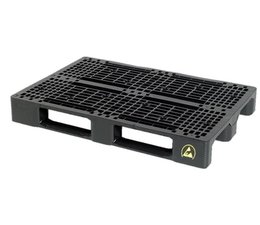 ESD Conductive Plastic EURO pallet 1200x800x150 with 3 skids
Weight 11 kg, resistance in the range 10E4 €" 10E8 Ohms, max load static 4000 kg, dynamic 1000 kg, on rack 500 kg, 3 skids. All prices exclusive VAT and shipping costs.
Article number:
PS128015PSRESD
Delivery time: ca 3 Weeks
Reviews
No reviews found...
ESD Euro pallet , heavy duty 
made ESD Conductive PP
resistance in the range 104 €" 108 Ohms
following DIN 53428 / IEC 60093 
with 3 skids for stacking and racking
open deck.
easy to clean
very good stacking on the rack with havy loads
anti-slip nobs not included in a standard delivery
quantity per pallet on delivery 16 pc
| | |
| --- | --- |
| Lenght mm: | 1200 |
| Width mm: | 800 |
| Height mm: | 155 |
| Weight gr: | 10600 |
| Colour: | black |
| Max racking load kg: | 500 |
| Max dynamic load kg: | 1000 |
| Max static load kg: | 4000 |
| Nesting / stacking: | Stacking |
| Nesting ratio %: | |
| Type of deck: | open deck |
| Type of material: | ESD Conductive PP |
| Pieces on full pallet: | 16 |