Pastic distplay pallet for instore product promotion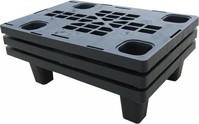 The plastic display pallets are used to transport goods and present them directly in supermarkets or other retail outlets. Some display pallets are equipped with slotted holes to fix marketing presentation panels. The pallet can also be used as an export pallet. The nestability of the pallet is a big space-saving when empty.

The Loadhog Pally can be recommended for its high efficiency in the retail supply chain.  It can be used as a merchandising unit for fast selling lines in retail applications and reaches high performance when moving and is required. With just one touch the display pallet lifts casters and can be easily moved in the store.