Folding boxes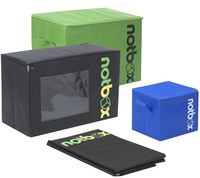 Notbox is a patented reusable container that replaces one-trip cardboard. It is an environmentally focused alternative to plastic bags, cardboard boxes and plastic containers. The folding box solutions are ideal for Warehouse Picking, Promotional Packaging, Reusable Packaging, Temperature Controlled Packaging, Inter-Store Transfers, Retail Sales, Home Delivery, and Global Supply Chain Solutions as well for household goods. They are available in a range of sizes with quick release zip or velcro lids.





• reduces costs in supply chain by 20% or more as it completes at least 15 round trips
• reduces carbon footprint - folds flat for backhaul,  100% recyclable
• very strong – made of polypropylene
• best for individual branding with multiple colour choices and own logo
• fits to any supply chain requirements with adaptable individual product  sizes
No products found...