Light plastic nesting export pallet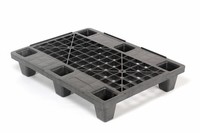 The plastic export pallets (with feet) save space in the reverse logistics when empty, they can be nested. The palettes are very light but robust and can withstand more than normal loads.
The pallets can be provided with skids to optimize the stability and the load. Different versions are available, 3 skids or fully closed bottom to spread the load.